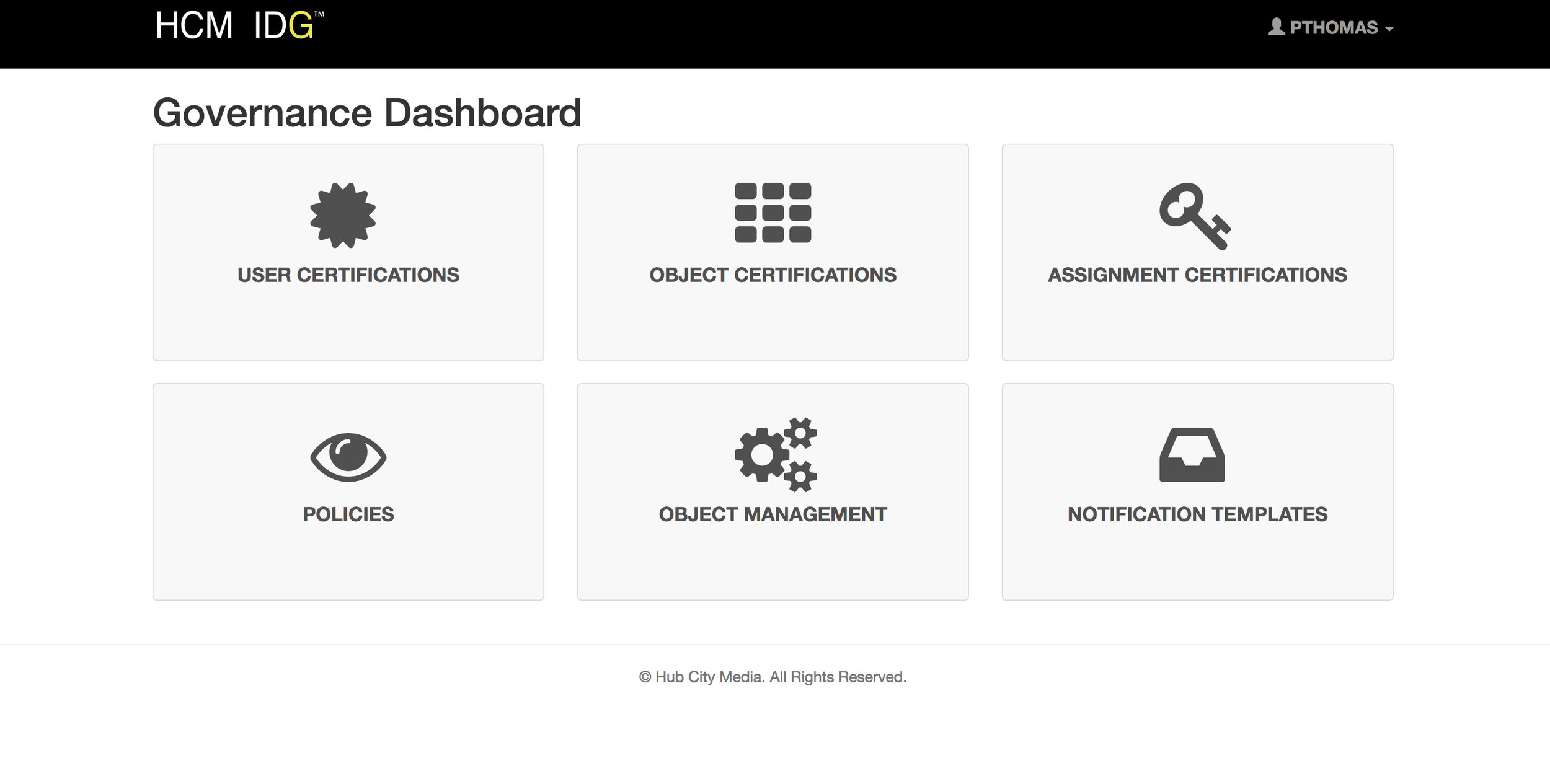 Centralized Auditing for User Identity and Access Control
Crucial to any identity system, governance offers support essential for enterprise IT security and the ability to efficiently meet regulatory compliance.
Built with a ForgeRock native framework and complementary interface elements, Hub City Media's Governance delivers a cohesive and simplified user experience with the capability to certify users and manage roles and policy violations in a highly efficient, precise manner.
Enhanced User Interface allows for:
More dynamic filtering capabilities

Precise targeting and control of user access, roles and entitlements

Streamlined campaign creation
Entitlement Glossary provides:
Consolidated management of all entitlement metadata

Bulk import and export feature

Extended relationship mapping to include all glossary items
OpenID Connect (OIDC) Integration enables:
SSO between HCM IDG™ (Governance), ForgeRock AM and IDM
Watch User Certification, Policy Violation and Role Management in action
Check out: Multi-Stage Certifications, Glossary and CSS Branding
Hub City Media's Governance (HCM IDG™) is completely integrated to ForgeRock and is not an add-on product. Users familiar with the ForgeRock platform will see a simple, clean interface that they know, and won't need customization. With this high-performance, easy-to-use technology, minimal product training is needed to get teams up to speed and ready to go.
HCM IDG™ has CSS Branding capabilities, so the application can be adjusted to match a client's corporate look and feel.
User Certification
Multi-Stage Certifications allow for any number of certifiers to be part of decision making processes

Create ad-hoc, scheduled or event-based certifications

Associate risk levels to each certification

Targeted or Broad (Manager through Administrator)
Role Management
Enhanced Glossary to allow for descriptions for all entitlements

Delegates according to function

Provides Lifecycle Management
Segregation of Duties
Reports Policy Violations

Eliminates "toxic combinations"
Automated Technology
With Hub City Media's Governance (HCM IDG™), you can automate once manual processes, saving valuable time and minimizing human error. Resources required to complete certifications are also reduced, leaving your team free to work on other high-value tasks.
Schedule Certifications and Policy Scans

Automatically notify and remind users of Certification deadlines

Sort and respond to Certifications by risk level
PREREQUISITES +
The below information contatins prerequisites for installing and running Governance for ForgeRock (HCM IDG™):
ForgeRock IDM: HCM IDG™ version 2.5 is designed to work with ForgeRock IDM version 5.x and 6.x. All connectors supported by IDM are supported sources of data for IDG™.
Repositories: HCM IDG™ is supported on the following databases: MySQL version 5.5, 5.6 and 5.7 with MySQL JDBC Driver Connector / J 5.1.18 or later; Microsoft SQL Server 2012 and 2014
Operating Systems: HCM IDG™ is supported on the following operating systems: Red Hat Enterprise Linux 6.x, Red Hat Enterprise Linux 7.x, Ubuntu 16.04, Windows Server 2008 R2, Windows Server 2012 R2, Windows 2016
Browsers: HCM IDG™ is supported on the following browsers: Chrome (latest stable reease), Firefox (latest stable release), Safari (latest stable release), Internet Explorer (11 and later)
Java Environment: HCM IDG™ requires Java Runtime Environment 7 or 8. Hub City Media recommends the use of Oracle Standard Edition HotSpot or OpenJDK.
System Requirements: HCM IDG™ requires at least 400MB disk space and 4GB memory for non-production implementations. Production sizing will depend upon user population, audit requirements and certification frequency.